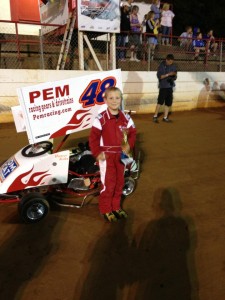 Name: Hunter James Kohn
Hair: Blond
Eyes: Blue
Pet: Dog named Daytona
Favorite Color: Red
School: Rocky River Elementary
Hunter is a fourth generation driver.  He is following in the foot steps of his Great Grandpa, his PaPa, and his mother.  
When Hunter isn't focusing on racing he enjoys playing basketball, riding his bike and going fishing with his dad.  He also enjoys spending time at his Papa and Memaw's house.
Hunter would like to thank his many supporters and fans.  Especially his Papa and Memaw, as without them none of this would be possible.  He also wants to send out a Special Thank You to Ron and Cheryl Ruff of PEM Racing Gears and Drivetrains.  Ron and Cheryl gave Hunter his first go-kart when he was 3 years old and now they are the Primary Sponsor of his #48 Box Stock.